by Travis Jeppesen on May 2, 2009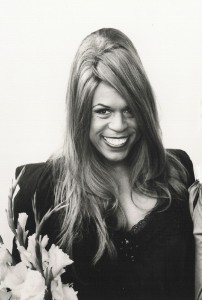 Congratulations to Vaginal Davis, Berlin-based genius performance artist, for winning this year's Ethyl Eichelberger Award. Ms. Davis continues to push buttons and boundaries with her work, scattered across countless disciplines and media. She is one of the most extraordinary living, breathing, walking works of art we've had the pleasure to encounter, and I'm honored that she'll be starring in my upcoming play, Daddy, at the HAU Theater in Berlin in June.
This Ethyl Eichelberger Award is given "to an artist who exemplifies Ethyl's larger-than-life style and generosity of spirit; who embodies Ethyl's multi-talented artistic virtuosity, bridging worlds and inspiring those around them." Davis will receive a show in the spring 2010 season at Performance Space 122 as well as a stipend for its creation.