by Travis Jeppesen on January 8, 2010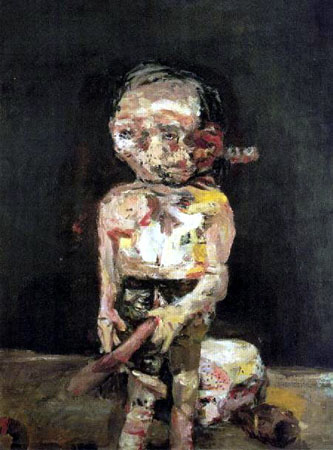 Lately I've been thinking a lot about Georg Baselitz and his notion of "bad painting." How this might correspond to writing, "bad writing." To write badly on purpose. There is not much of a history to this anti-tradition in literature. Kathy Acker was one of the few writers who openly did it, then there's the Flarfists and some of the conceptual poets (Kenny Goldsmith, et. al.), but the former seem to be doing it as a joke, while the latter tend to be so boring and academic that who really gives a fuck — no one really reads it, no one cares.
Conceptual poetry suffers from the disease of being merely interesting.
Even if the people doing Flarf take it seriously, the fact that they've given it a name has essentially ruined it. Group identity = institutionalization.
Another "bad writing" milestone — Finnegans Wake.
Joyce didn't encourage others to follow in his path.
Perhaps nearly everything Gertrude Stein ever wrote could be classed under "bad writing."
In order to arrive at a definition of what these artists and writers are doing, we have to grapple with the question of intentionality.
Just as there are supposedly "eternal values" in art, there are also eternal vulgarities that permeate our civilization. Certain artists take the initiative of choosing to set a bad example. To do so is to take a moral stance, to put forth a system of values that runs counter to dominant social values. To affirm what is otherwise, at best, negotiable. The painting above, The Big Night Down the Drain, scandalized the German art world when it was first exhibited in 1963. Painting an ugly dwarf with a huge cock is bad taste enough; the fact that it was so crudely painted made it even worse. Baselitz could have alleviated the strain of the controversy by pointing to others who have made similar gestures, by giving it a name, by forming a group identity. But he stood alone. (Which is not to say that others didn't assign his work to the archives of German Expressionism or international Neo-Expressionism; but as far as I know, Baselitz himself has never admitted to being a card-carrying member of any movement or genre.)
However hesitant we might be to admit it, the vast majority of art and literature is executed in slavish conformity to societal norms. When Philip Roth sets out to write a novel, he is consciously writing towards a tradition; when Baselitz makes a painting, he is also working towards tradition, but it is a tradition of being anti-tradition.
What does it mean to set out to write the ultimate "bad novel." Not just bad as in subject matter, but method — grammar, syntax, narrative — not to intentionally be wrong, but to not care about the possibility of getting it all wrong. Everything you are told not to do in writing. Critics would be forced to come with a new language to praise or reject it — neither an enviable nor a pitiable task. But as a project, perhaps it represents one way forward — or at least a way of correcting certain age-old prejudices.