by Travis Jeppesen on January 29, 2010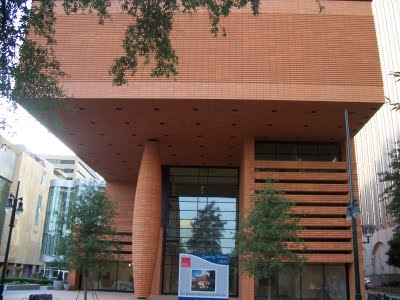 The United States' newest museum of modern art opened on January 2 to much fanfare locally, and very little notice on the national level. One can only speculate as to the reasons why. Perhaps the proliferation of contemporary art museums, with numerous institutions dedicated to living artists in every major city, has clouded our memory that something great happened before our narcissistic era. Perhaps many of us still haven't overcome that ridiculous prejudice of the late 20th century that a penchant for Modernist art denigrates one as aesthetically-if not politically-conservative. Whatever the case may be, the news that one of the world's richest and most unique private collections of mid-century European art has found a home in a region of the country where there are very few significant museums dedicated to any kind of art should not be overlooked. Equally impressive is the building itself, a hulking, monumental terra cotta structure by Mario Botta, who previously only accepted one other US commission, the San Francisco Museum of Modern Art.
The opening exhibition features 109 of some 1,400 works endowed to the city of Charlotte by Andreas Bechtler, who inherited most of the collection from his parents, Hans and Bessie Bechtler. The Bechtlers began collecting in their native Zurich in the 1950s. It is an idiosyncratic collection in the sense that it dates from a pre-speculative era, refuting both period trends and canonical gap-filling, instead reflecting the collectors' individual tastes and their personal engagement with an artist's oeuvre. The Bechtlers' extensive Giacometti collection is case in point, spanning the artist's sculpture, paintings, drawings-and very often, many of the preparatory drafts of a finished work. It is as though the Bechtlers had a frantic need to intimately absorb every step of the process that led to a work's completion.
Rather than usurping a traditional historicizing arrangement, curator Michael Godfrey has formed an impressive symphony highlighting the diversity of the collection, whose greatest attribute is its concentration on the Bechtlers' milieu, including notable works by Jean-Paul Riopelle, Karel Appel, Max Ernst, Georges Rouault and Nicolas de Staël.
This, in fact, is the most important aspect of the Bechtler collection – at a time when the achievements of European artists were being completely overshadowed by the chauvinistic asserts of the Abstract Expressionists and their vast support networks, European Modernism continued to evolve. But its history, at least in most American collections, seems to terminate with the rise of the New York School.
Not anymore. For a city better known as the home of NASCAR and the headquarters for Bank of America, with a reputation for constantly playing second fiddle to nearby Atlanta, the opening of the Bechtler Museum is cause for celebration and should eventually earn Charlotte a pinpoint on the art world's map.