by Travis Jeppesen on October 1, 2008
While Berlin may not be not be the power or economic epicenter of the international art world at the moment, there is mounting evidence for a case that the city has at least become its spiritual center. Beyond the highly touted cheap rents and ever-obliging coolness factor, which have come to define the post-Cold War nexus of Europes old and new, the secret seems to lie in a young, mostly artist-run gallery scene that is constantly refreshing itself. As soon as one quarter is excessively commercialized and/or gentrified, the young and struggling players who so visibly endow Berlin with its rugged-yet-colorful identity move on to the next ignored or abandoned neighborhood, filling its derelict storefronts and buildings with creations that, if nothing else, pose a much-needed threat to the sort of passion-immunity and numbness-posturing that have sadly come to constitute post-millennial hipsterdom. Where there is a lack of vision or an underflow of talent, there is always plenty of ambition to make up for it; and this, in a nutshell, is what makes Berlin the most vital and inspiring of cities to call home.
Indeed, any effort to keep up with all activities happening outside the burgeoning commercial gallery scene entails keeping an ear to the ground and an eye on the street. Beyond the city's established gallery districts, there remains a lot to be discovered. And while the prospect of embarking on a week-long treasure hunt through Neuköln, Wedding, or one of the city's other bastions of underground activity may sound daunting, thankfully the Friedrichshain neighborhood, while weathering a storm of impending gentrification, nevertheless seems to have found its center in one place. That place is the former brewery Friedrichshöhe, a massive building behind a beer garden on the otherwise sleepy Landsberger Allee.
The cooperative that runs the building envision it as a space for the development of fiercely independent art projects and are unconcerned about commercial gains. They have thus turned Friedrichshöhe over to the artists and allowed delightful chaos to ensue. Christopher David, the New Zealand-born photographer and curator behind Kollektiv-Berlin, was the first to move in, bringing with him a barrage of painters, sculptors, installationists, and general havoc-makers, among them the young "analog and digital artist" Nick Dewar, Australian painter Pete Wheeler, and Peruvian street artist Kenno. Next Wednesday, October 8th, to commemorate the closing of Kollektiv's current exhibition (a group show called Highway Child, curated by Emilie Trice), Kollektiv will be holding a Schwarzer Salon masque ball.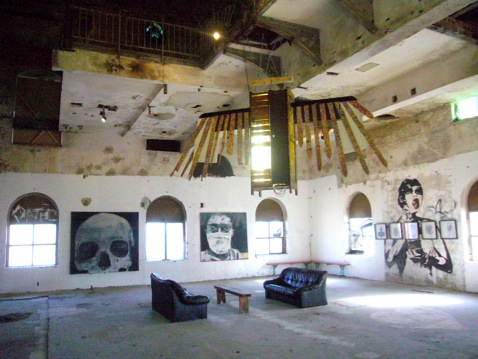 David is in many ways the organizational mastermind behind Friedrichshöhe. A former fashion photographer in London, David currently spends his winters in India, where he is working on a new book project. Given the difficulty of heating the massive Kollektiv project space, he views this as mostly a seasonal project. At the same time, plans are underway to take Kollektiv projects to a larger audience. Plans are underway for Kollektiv to participate in upcoming international art fairs (including the Berliner Kunstsalon), and David himself acts as something of an agent for the artists he represents, securing them shows at commercial galleries for the fall and winter months.
Contemporary photography is the focus of David Mitshu's eponymous space, which he uses as both a studio and a gallery for showcasing his own work as well as fellow artists working in the medium. Still, other artists working in the building are focusing on transforming the space itself. Such is the project of My Door Organ, a joint venture between Madeline Stillwell and Kate Theodore, which intends to focus exclusively on site-specific installations in and around the gallery space on the second floor.
Across from My Door Organ, Michael Rade and Elena Sinanina recently opened STYX Project Space. Neither Rade nor Sinanina are artists, unlike the others. Rade is a graphic designer by profession, and Russian-born Sinanina is currently completing her degree in Theatre Studies in Berlin, but both have curated exhibitions previously in Germany and the U.K. Thus far, the aim of STYX has been to showcase the work of younger, up-and-coming artists, such as painters Jon Campbell and Jeremiah Palecek and conceptualist Melissa Frost. The gallery has also hosted readings, concerts, and performances. Thomas Götz-von Aust's riotous literary series Borderline now makes its home at STYX, and Valerie Renay of Noblesse Oblige recently brought her solo performance project Femme Façade into the space.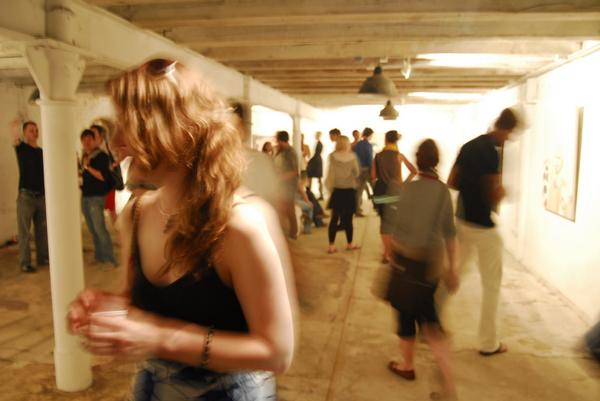 Much of the current buzz around Friedrichshöhe, however, can be readily attributed to the success of Urban Affairs, a street art festival that brought several thousand visitors to the former brewery this past summer. Urban Affairs was presented under the guise of Riot-Arts, another gallery project in the building, this one the brainchild of entrepreneur Jochen Küpper, and will continue to bring urban artists in off the street, allowing them to experiment in a gallery setting.
Such popular events effectively expose a larger audience to some of the more difficult, experimental projects currently underway at Friedrichshöhe, such as the 91mQ gallery. Run by Italian artists Elena Bellantoni and Marco Giani, they intend to utilize the space as a crossroads between theory and practice. "For us, it's important to do something different from what you see on the street. It's also important to have a clean, white space in a building that is rather derelict, dirty. It makes for a nice contrast." In October, the pair will curate a group show, Same Democracy, which will investigate the ways in which technology has the power to alter the functionality of democracy. A series of artist talks and conferences is scheduled to run concurrently with the exhibition.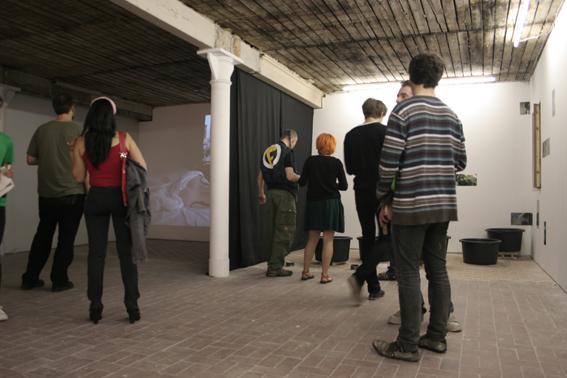 If there is a polemical streak to any of these projects, it is perhaps most clearly annunciated by Tulip Art Projects, a Dutch collective also working in the Friedrichshöhe space, whose stated mission is "to develop an antidote to dysfunctional artistry," which they claim is "common to 99% of all artists." In a word, the Tulip collective is striving to make art relevant again to a wider public by evading the "delusions of avant-gardeness" and "lifelong dependency on government funds" that have come to define a career in the art world. It is a world that the artists and gallerists currently re-making Friedrichshöhe are each attempting to circumnavigate in their own way, and in so doing, they're also injecting a much-needed dose of sincerity and realism to a scene that tends to take itself way too seriously.
Friedrichshoehe can be found at Landsberger Allee 54, Berlin.
For more info, check out the following sites: