by Travis Jeppesen on September 2, 2008
Ricarda Roggan: Still Life
KW Institute for Contemporary Art, Berlin
Through September 7th
There's still time to see Ricarda Roggan's show before it closes, and it's worth the effort. Although her work might be overshadowed by the fact that Richard Serra's films are being exhibited concurrently in the building, I have to say that, while I admire Serra's sculpture, his films are boring. Nor is the Albrecht Schäfer exhibition all that memorable. No, there is only one reason to visit Kunst-Werke right now, and that's to admire Ricarda Roggan's fine photographs.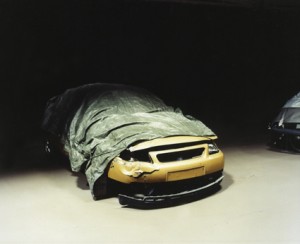 Roggan works in series. In Bäume 1-7 (2008), you are confronted with green foliage, the suffocating blaze of nature. The photos here are necessarily cropped in that you just can't fit it all in – the forest, the trees, they seem to go on forever – where the image begins and ends is thus an arbitrary matter. Roggan makes it all the more suffocating by the small scale of the prints – indeed, these are the smallest photos in the exhibition. You want to penetrate all this foliage – go inside it, get beyond it – yet that desire is also tinged by fear – fear of everything the forest represents: the anarchy of nature's impulses.
In the next space, this anarchy finds its quiet contrast in the stringency of empty spaces. White indeterminacy. Brick walls painted white. These prints are a lot larger, both in terms of size and scale, which makes sense because the spaces they depict are completely open, rather than crowded. This openness doesn't beg to be filled; it plaintively asks to be absorbed.
The exhibition then builds (notice how deft it's all been laid out) to the monumental depictions of crashed cars. Light bisects each of the images horizontally in classical painterly style. It is at this point that you're reminded that, despite the proliferation of digital images in art these days, the most enduring images are those rooted in painterly values. When the photographer lacks a subtle understanding of form, color, light, and composition, then no matter how captivating or provocative their subject matter is, the work winds up looking like garbage. You don't have to look much further past the snapshots of a Ryan McGinley or a Dash Snow to recognize the extent to which this sort of visual retardation has become popularized in recent years, but this is a passing trend, my friend, and the work of real artists such as Roggan shows us why.
Some might say that there's something a bit cold, detached, and sad about these images – something a bit, well, stereotypically German. The arrangement of photos, after all, reaches a sort of anti-climax with three photographs of a single long meeting table with chairs. It infers an almost mocking pre-occupation with bureaucratic formality, one that would certainly look out of place in an American (read: corporate) context, but seems particularly adroit in its apparitional foregrounding.
Roggan's most painterly effort is the final series, which consists of attic interiors. Arboreal panels, beams, rafters stuffed with rotting wood, stairways above doorways each providing alternate exit routes, although we are never given a chance to see what lies beyond, what might give these haunted empty locales a context. How fitting is all this for the austere environment of Kunst-Werke's bottom level, with its brick and white and concrete floor, glimpses of sun leaking in through the skylights.