by Travis Jeppesen on April 16, 2008
I'll be back later this week, I promise. Things are a bit hectic right now, as I've been working on final edits for Disorientations (the book) ever since I got back from London, plus a deadline for ZOO Magazine. The new subtitle for Disorientations, by the way, is Art on the Margins of the Contemporary.
I hope to write about the shows I saw in London, including No Bra, Derek Jarman, and the Martian Museum of Terrestrial Art, later in the week.
If you happen to be in Norway, meanwhile, check out this exhibition from SUPERM (Slava Mogutin + Brian Kenny) and Gio Black Peter. I interviewed Gio for the latest issue of ZOO, which is due out in May.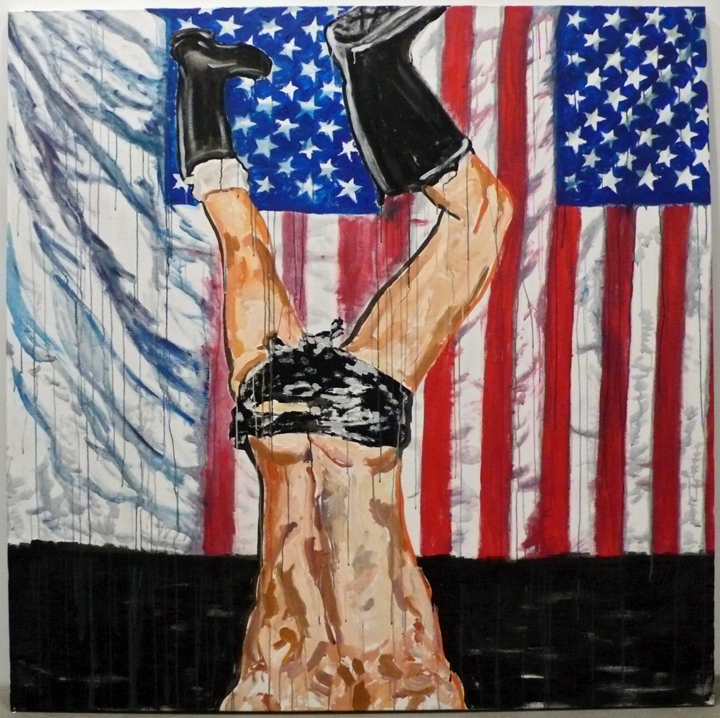 Galleri s.e is proud to present SPUTNIK 3, a collaborative show by the New York-based art collective SUPERM (Slava Mogutin & Brian Kenny) and Guatemalan-born artist and musician Gio Black Peter. 
SPUTNIK 3 is the name that SUPERM and Black Peter have been using for their collaborative work since 2006. They use all available media and source materials, ranging from reclaimed furniture and street art to personal fetish gear, hair and bodily fluids.
Opening on April 12th, the Soviet Space Day and coincidentally Slava Mogutin's birthday, SPUTNIK 3 is a site-specific installation combining large-scale paintings on canvases and plywood, drawings, sculptures, photos, videos, and a permanent bathroom installation. The show features a new series of drawings by Gio Black Peter on New York City subway maps and SUPERM drawings on vintage American shooting targets made in collaboration with an international group of artists including Bruce LaBruce, Christophe Chemin, Sebastiano Mauri, Lee Adams, Christophe Hamadie-Pierson, Josh Lee, and Marko Brozic.  
Personal, political and transgressive, SPUTNIK 3 artwork reflects artists' diverse backgrounds and aesthetics. It's a direct response to a world of shameless war propaganda, media brainwashing, corporate censorship, state-induced paranoia, and shrinking personal freedoms.
Slava Mogutin (1974, Kemerovo, Siberia). He moved to Moscow at the age 14 and soon began working as a journalist for the first Russian independent newspapers and radio stations. At the age of 21, Mogutin was exiled from Russia for his queer writings and activism. He was granted political asylum in the US with the support of Amnesty International and PEN American Center. He is the author of seven books in Russian and two hardcover monographs of photography, Lost Boys and NYC Go-Go (powerHouse Books, 2006 and 2008). Mogutin's artwork has been exhibited internationally and featured in a wide range of publications including The New York Times, The Village Voice, i-D, Visionaire, L'Uomo Vogue, and Stern. 
http://slavamogutin.blogspot.com
Brian Kenny (1982, Heidelberg, Germany). While growing up, Kenny traveled extensively throughout the US with his Army family. As a teenager, he was a competitive gymnast. After high school, he went to Oberlin Conservatory to pursue a degree in voice, but eventually left school to produce his own music, which combines elements of hip hop and ambient. Kenny works across drawing, graffiti, text, sound and video. In 2004, he moved to New York where he began collaborating with Slava Mogutin under the team name SUPERM. They are responsible for site-specific, multimedia gallery and museum shows in New York, Los Angeles, Berlin, London, Moscow, Oslo, and León, Spain.
http://briankenny.blogspot.com
Gio Black Peter (born Giovanni Paolo Andrade Guevara, 1979, Guatemala City). At the age of 5, Gio illegally emigrated with his family to the United States and moved to New York City. In 2005, he formed his music band Black Peter Group. He has exhibited his artwork and performed in New York, London, Paris, Berlin, Antwerp, and Turin. He's the star of James Bolton's independent feature Eban and Charley (2000) and the new Bruce LaBruce movie, Otto, or Up with Dead People! Black Peter's artwork, videos and music incorporate his experiences living as an outsider in the United States. His first album "It's Fucked Up" is scheduled for release in 2008. He divides his time between New York, London, and Paris.
http://gioblackpeter.blogspot.com
http://www.youtube.com/user/blackpetergroup
g a l l e r i  s . e
Kalfarveien 76, N-5018 Bergen, Norway
+47 55 31 57 55 (Office)
+47 958 53 680 (Mobile)