by Travis Jeppesen on October 28, 2008
Yeah, I know. This isn't about art, and it's not like you need another reason to not eat at McDonald's. But this was so hardcore, I couldn't resist reporting it – especially since no explanation whatsoever has been forthcoming from McDonald's HQ, which confirms my impression that they simply don't care about either their customers or their stockholders.
A few weeks ago, after a long drinking session, we ended up at the Hermannplatz McDonald's in the Neuköln district of Berlin. Imagine my surprise when I opened up my L.A. Beef Barbeque to find this. Notice anything special (besides the fact that it looks extra disgusting than the usual McDonald's culinary efforts)?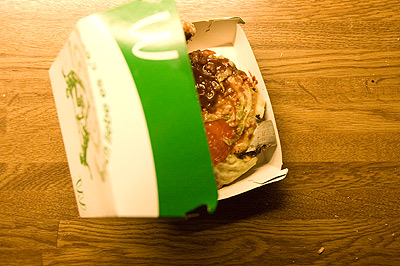 A little bit of silver, perhaps?
That's right – what appears to be a huge razor blade in the sandwich.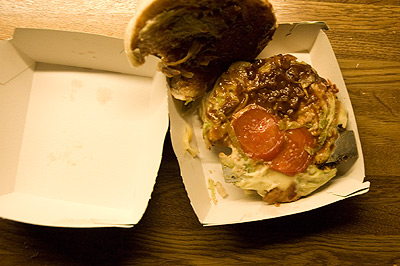 Think about that next time you get a Mac Attack. Or at least take a good long look at what you're about to bite into, or else it may very well be the last thing you ever taste. <shiver>